Medical Devices Reg./Record No.:
Yxzz20152550158
Digital Display:
Wavelength:450-480mm
Capanility of Battery:
2200mA/H3.7V
Solidification Time and Depth:
5s/3mm
Transport Package:
1piece in 1 Box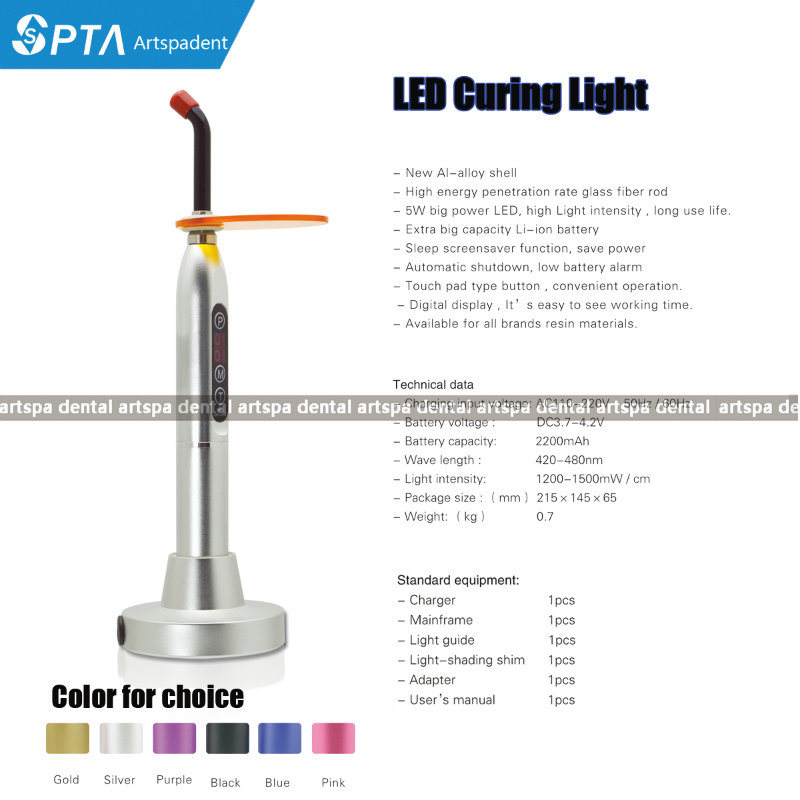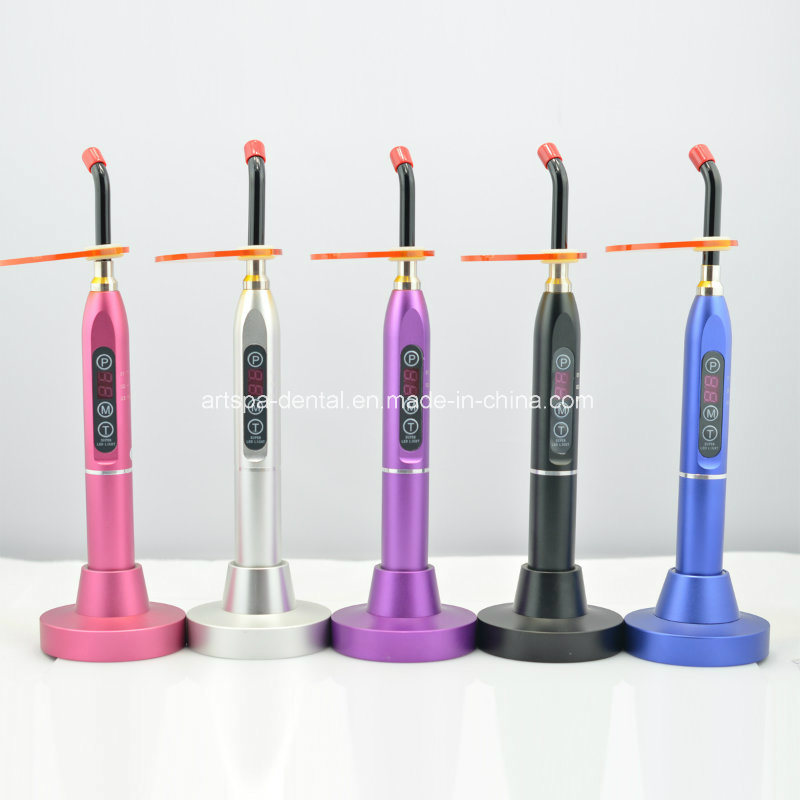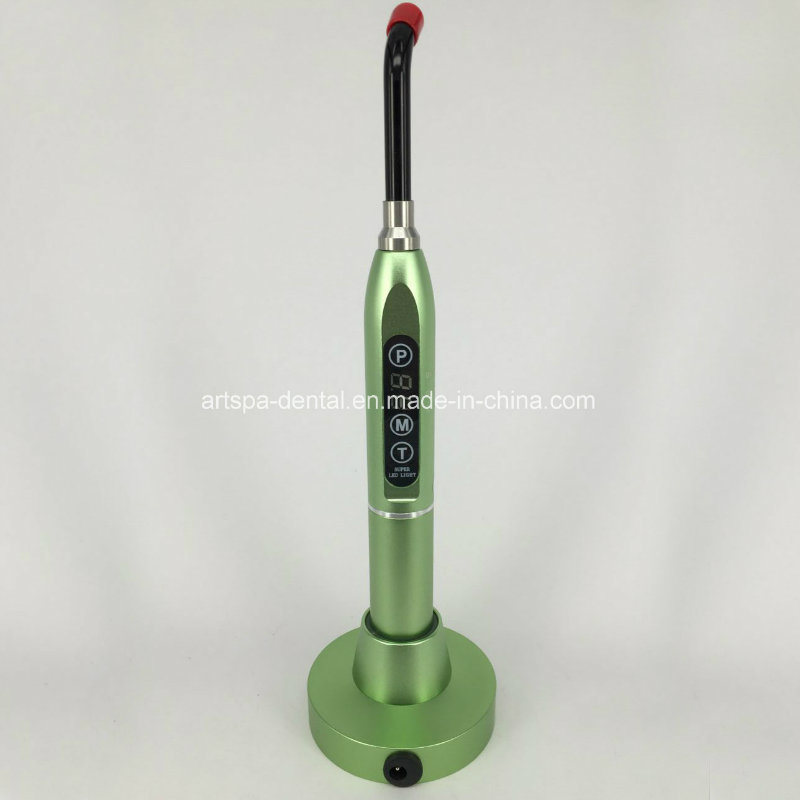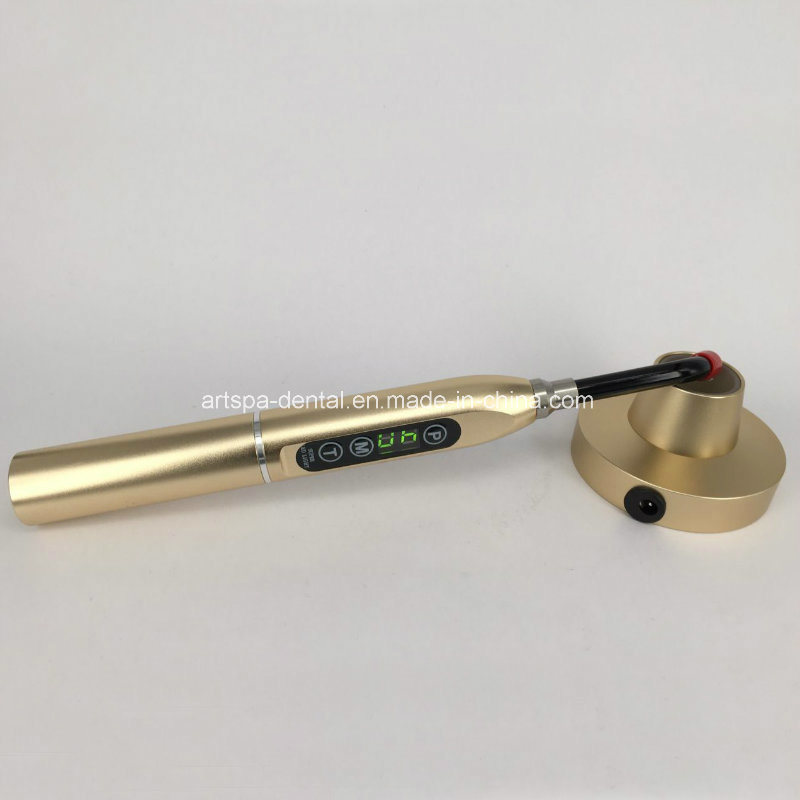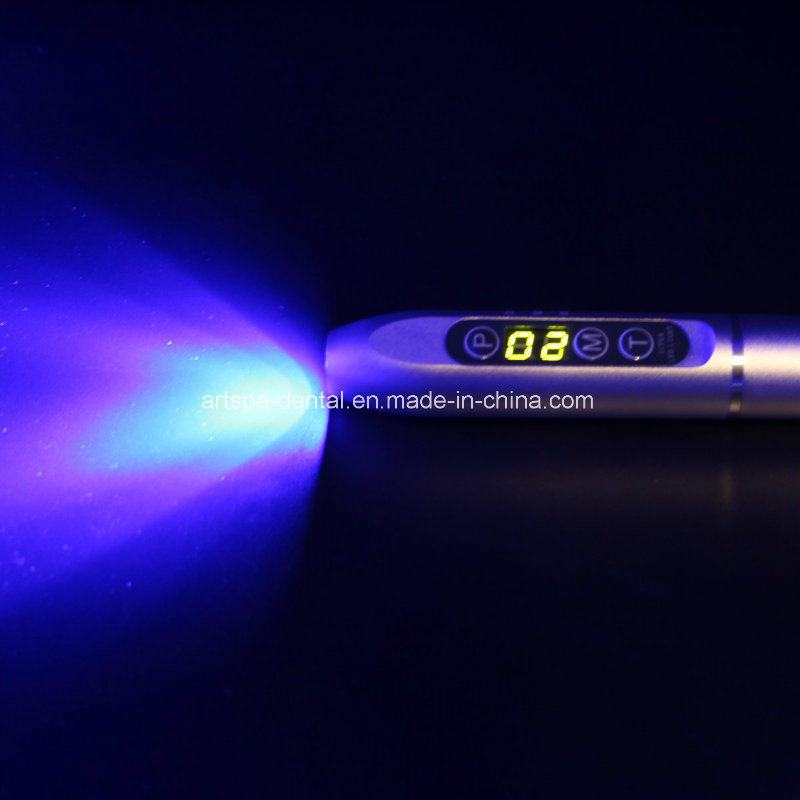 Feature:
1. High power LED,professional dental spectrum
2. Bionic design,LCD display
3. Optional working mode: strong, low, gradually strong, flashing 
4. Solidifying time:5-40s,can be adjustable
5. Temperature inspect, over-temperature protection
6. High capacity Li-ion battery , and can charge with charge base or adaptor   
7. Wireless and corded are compatible in one 
8. Built-in high sensitive LED light measure system.
9. Handle can put on the tool tray with the holder 
Technical:
 
1.Capanility of battery:2200MA/H3.7V
2.working volatage:AC100-240V 50-60HZ
3.Wavelength:450-480mm
4.Light powermore than 1400mw/c
5.Solidification time and depth:5s/3mm
6.Lare-capacity lithium battery,ulra-long
7.Full charging,to work for 10seconds each for more than 500 times
 
Dried goji berries are nutritionally rich, containing beta-carotene, vitamins C, B1, B2 and other vitamins, minerals, antioxidants, and amino acids. Dried Goji berries have many health advantages, some of which include the prevention of eye disorders,regulating gastrointestinal function, warding off cancer and contributing to longevity.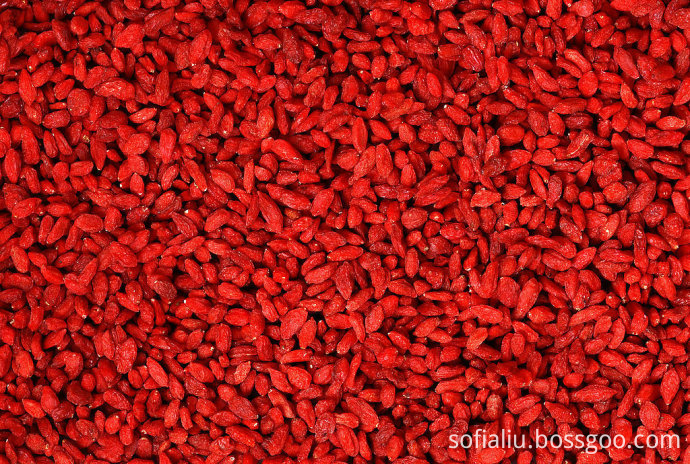 Wolfberry Company is the only Goji manufacturing company direct selling to USA in Ningxia Province. Now we have seven kinds of products, including Goji beverage, Concentrated Goji Juice, Goji seeds oil, freeze-dry Goji Powder, preserved Goji Berry , Goji polysaccharides, fresh Goji Juice drink and organic Dried Goji Berry, with more than 50 products specifications. We have the Goji further processing production capacity more than 20 thousand tons every year. Our products are mainly exported to more than 20 countries and districts, such as USA, Japan, EU, Australia, Southeast Asia, Hong Kong, Macao, and Taiwan.
As the technology leader enterprise of Goji industry in Ningxia Province, Wolfberry Company always stand in the forward position of Goji research. It is the innovation and technology that make Wolfberry Company steady progress. Our company possesses 7 items of invention patents, had established 7 modern Goji-deep-processing production lines. Wolfberry Company achieved seven top-class items in Goji further processing industry, and exported Ningxia Goji to the world wide.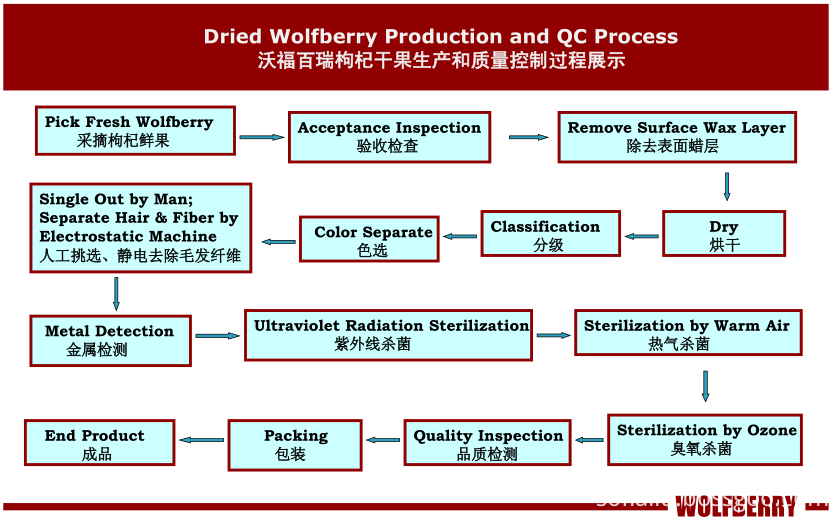 Please feel free to leave us message.
Any inquiry would be replied within 2 hours on working days!
Save
Dried Goji Berry
Sun Dried Goji Berry,Dried Conventional Goji Berry,Low Moisture Goji Berry,Dried Red Berries
Ningxia Wolfberry Goji Industry Co.,ltd , http://www.nx-wolfberry.com