1. Fresh-leaf picking and picking time When 10 to 15 tea buds per square meter meet the picking standards, they can be mined. In spring and autumn, spring tea is generally started in mid-March, and autumn tea is generally started in mid- and late-September.
Picking requires first picking, late picking, and picking after picking. Fresh leaves are required to be clean, fresh, without pedestal, tea and old leaves. The utensils used to hold fresh leaves and transport fresh leaves should be bamboo baskets or baskets with good cleanliness and ventilation performance. No flexible packaging materials such as cloth bags and plastic bags should be used. The transportation tools must be clean and hygienic.
In the process of dressing and transporting fresh leaves, care should be taken to ensure that they are gently placed, lightly turned, and pressure-reduced to reduce mechanical damage, avoid sun and rain, and be mixed with odors and toxic substances to prevent the storage and transportation of fresh leaves. Fresh leaves should be sent to the tea factory in time after picking. If they cannot be delivered in time, they should be kept fresh and stored reasonably.
2. Processing environment and processing technology Processing environment The processing site should be air circulated, brightly lit, and the walls and floor should be kept clean and clean to facilitate cleaning; away from toilets, garbage, industrial enterprises and other pollution sources.
Operators should have health certificates and regular medical examinations. Wear masks, gloves, hats and white coats when handling.
Process fresh leaves spread → Fix → Spreading → Rubbing → Ricoh → Air Drying → Secondary Rule or Refinery → Drying.
After fresh leaves are delivered to the tea factory, fresh leaves shall be classified according to the standard and be graded and distributed.
Spreading tools: bamboo or bamboo mats.
Stalling thickness: The requirements for the best tea raw materials are not more than 2cm for the leaf thickness, and not more than 3.5cm for the special one-level fresh leaf tea.
Spreading time: Generally 4h ~ 10h, lightly turn once in the middle, rain leaves and dew leaves can be used fan or fresh leaf dehydration machine for dehydration.
Spreading level: The weight loss (15 ~ 20)% as the standard, leafy hair, shoots stretch, water dispersal, fragrance revealed.
Fix the blue with a 30- or 40-mm miniature drum fixing machine. The inlet drum wall temperature reaches 200°C, or the inlet air temperature is suitable for the tentacles.
The amount of leaves to be thrown: 30 type drums to fix the green leaf volume of 30kg per hour is appropriate.
Fixing time: about 90s.
Fixing degree: The leaf is soft, the stem is folded, the leaf color turns dark green, there is no green gas, there is no coke edge, there is no red stem red leaf, tea is disclosed.
After stalling and killing the leaves of the green leaves, they should be evenly spread on the bamboo raft (mat) so that they can disperse heat, cool, and produce no smolder as soon as possible. The time is 10 minutes to 15 minutes.
Knead the best tea without rubbing, special level with the hand gently, special two, a type of tea available 25 type or 30 type rubbing machine rub.
Hand rubbing: Hold the tea between the palms of the two hands and rub it in one direction. Hand gestures should be light, then shake off and rub again until there is strong tea.
Rubbing machine rubbing: use no pressure light, time 1min ~ 2min.
The theory of using the famous tea bar theory, the tank temperature rose to 100 °C, you can put rubbing leaves 1kg ~ 1.5kg, Ricoh 2min ~ 3min, tea knot tightly straight out of the tank to dry.
Spread the tea leaves and spread them on bamboo vines to cool them. Then cover them with wet cloth and re-distribute the water. The time is 15 minutes to 20 minutes.
The second rule or the rubbing is to re-arrange the bar, the tank temperature 80 °C ~ 100 °C, time 2min ~ 3min. Special grade two and grade one tea should be placed in the refining and kneading machine. The bath temperature is 80°C~100°C and the time is 5min~7min. Drying is done using CHT6.0 Electric Titian or a famous tea roaster.
Temperature: 80°C to 130°C.
Stall thickness: 1cm to 2cm. Requirements: Turn once every 2min ~ 3min, until the foot is dry, the most stout buds with your fingers can be powdered and bake. The electric incense machine can be dried once, and the time is about 20min ~ 25min.
Sieving packaging Pour dry tea leaves into the bamboo basket, wait until it cools slightly, sieve the powder, and then pack it for storage.
1) Thick,etra soft & gentle Wet Wipes are available in different scents leaving the skin feeling refreshed and fragrant for a long time.
2) Extra absorbnet wet wipes contain antibacterial & antiseptic properties to protect the babies from germs,leaving baby's skin smooth and sily soft.
3)Useful as a smart & effective option for moisturizing and sanitizing baby's hands, mouth & general body as well as cleaning baby's teether,toys & utensils.
Production flow:
1.Raw Material
2.Putting Material into Machine
3.Cutting Nonwoven
4.Folding Nonwoven
5.Adding Formula fluid
6.Automatic Products Inner Packing
7.Packing Products into Carton
8.Products Loading
Baby Wipe Specification:
| | | | | | | | |
| --- | --- | --- | --- | --- | --- | --- | --- |
| Size cm | Component | Material | Open Type | PLY | Pcs /Pack | Packs /CTN | CTNs /40HQ |
| 15X20 | Spunlace Non-Woven | 5V5P | Reusable Sticker | 1 | 10 | 96 | 5500 |
| 15X20 | Spunlace Non-Woven | 5V5P | Reusable Sticker | 1 | 24 | 48 | 5500 |
| 15X20 | Spunlace Non-Woven | 5V5P | Reusable Sticker | 1 | 40 | 48 | 2840 |
| 15X20 | Spunlace Non-Woven | 5V5P | Reusable Sticker | 1 | 60 | 24 | 3780 |
| 15X20 | Spunlace Non-Woven | 5V5P | Reusable Sticker | 1 | 80 | 24 | 2840 |
Baby Wipe OEM Option:

Item : Option
Size : 15*20cm,16*16cm,18*18cm,18*20cm,20*20cm etc
Material:
Spunlace(like 20%viscose+80%polyester, 50%viscose+50%polyester, 100%viscose,flushable cloth ,bamboo ),wood pulp(Polyester+viscose,polyester+woodpulp),needle pouch
Package: 1~200pcs follow bag, Tube,Bucket,Canister
Ingredients: About 100 kins of ingredients for you to choose
Carton: Export carton,Show box,Innner box,Inner bag etc
Bag printing: As your required design or take our own label
Certificate: GMPc,ISO9001,ISO13485,BRC,FDA
Test for products:
CA Prop 65, TPCH, SPC, Preservative level check on each formulation, Cosmetic Product Safety Report (CPSR), Efficacy of Anti-microbial Preservation USP & BP/EP, Heavy Metals and Toxic Elements, Microbial Contaimination (USP & BP/EP),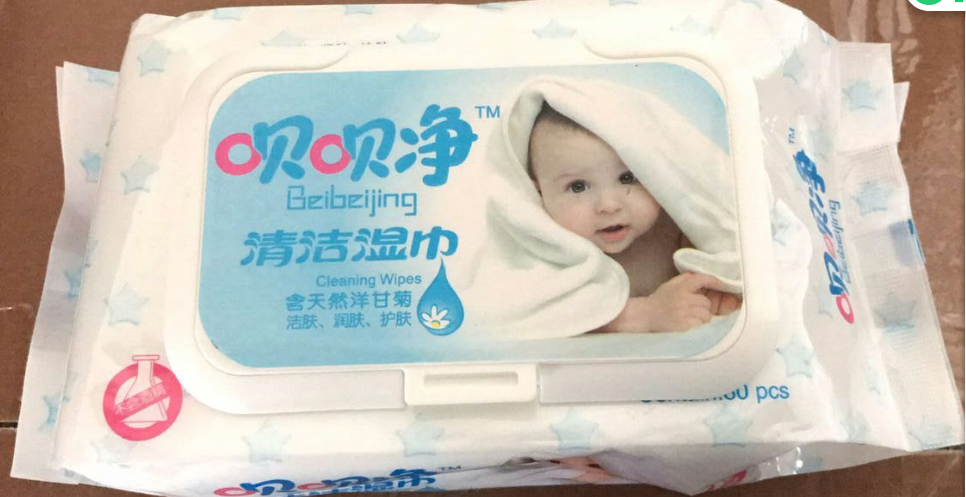 Baby Wet Wipes
Baby Wet Wipes,Non Woven Baby Wet Wipes,Organic Baby Wet Wipe,Disposable Baby Wet Wipes
Tianjin Jiao rou Sanitary product company , http://www.tjsanitary.com